CaptainBlackBeard.net - OFFICIAL WEBSITE
Melodic Rock from Sweden!
- LATEST NEWS

2020-01-02
Happy new year! Sorry for the lack of updates on the website. We've been active on facebook mostly. Our fifth album is completed and we hope to have a release date soon. In the mean time, there's pleny of cool gigs coming up and a acoustic single has been released. Check it out;

https://open.spotify.com/track/5NwH2FhOO27HT9n54A8l9V?si=8QkQHl4HSe2s16n88aiB0A
2019-06-29
We have a chance to play the KISS Kruise this year!!! How awesome would that be?! Please cast a vote and we'll be forever grateful:

http://www.thekisskruise.com/Soundcheck/





2018-10-08
Sorry for the lack of updates on this website. We've just been using our facebook page lately. There's a bunch of cool gigs coming up next year as well as a concert at Harry B James in Stockholm on November 16th 2018.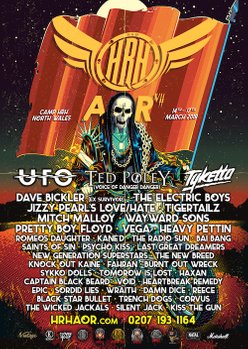 2018-04-06
Here's our second video/single "Dead End Street"! Taken from our upcoming album "Struck By Lightning" (out April 25th via MelodicRock Records). Special thanks to the Jona Tee (keyboardist in H.E.A.T & soon-to-be-legendary-producer) for screaming at us ;)
2018-03-09
Here we go... our first single/video from "Struck By Lightning" (out April 25th) is out! The song is called "All The Pain" and we hope you enjoy it:
2018-03-06
Swedish rockers Captain Black Beard signs with Melodic Rock Records
Swedish rockers Captain Black Beard have signed with Melodic Rock Records for the release of their new studio album 'Struck By Lightning', coming worldwide April 25.
The first single and video from the album "All The Pain", will debut this Friday (March 9).
The new album sees a switch in musical direction for the band, unleashing a wave of powerful new anthemic, pure melodic rock songs.
"It's an honor to work with such enthusiastic champions of our genre." says bassist Robert Majd.
In the summer of 2017 Captain Black Beard entered the studio to write a new chapter in the bands history. Robert Majd and Christian Ek along with new lead singer Liv Hansson as well as producer Jona Tee (keyboardist in H.E.A.T) pretty much reinvented the band's sound.
The album that was recorded is called 'Struck By Lightning' and features a fresh dose of high energy melodic rock. From the instant catchiness of the opening track "All The Pain" to the heavy closing of "Straight Out Of Hell", the band combines their AOR influences with their hard rock roots.
"This is a tremendous album and I'm really excited for the guys," states MRR owner Andrew McNeice. "They've created a great new sound that brings together everything I love about music – killer songs, big production and hooks and harmonies everywhere. This album is going to put the guys on the map."
Captain Black Beard was formed in 2009. Their self-titled debut album was named one of the "Albums Of The Year" by legendary journalist Geoff Barton of Classic Rock. The follow-up "Before Plastic" featured guest appearances by Bruce Kulick (KISS, Grand Funk Railroad) and Mats Karlsson (220 Volt). In 2016 the band released "It's a Mouthful" and toured with Joe Lynn Turner (Rainbow, Yngwie Malmsteen, Deep Purple), Robin Beck, House Of Lords and performed at the festival Hard Rock Hell AOR for the second time in their career.
A release party will be held in Stockholm, Sweden on the 9th of May. Check out the bands website or facebook-page for all the latest news:
www.facebook.com/CaptainBlackBeardBand / www.CaptainBlackBeard.net
"Struck By Lightning" will be released via Melodic Rock Records on April 25 and the first single/video "All The Pain" will debut March 9.
Here's a sneak peak...
2018-01-23
Lots of news coming up... soon! The new album is done. Shows are being planned and the release date will be announced. Keep rockin' \m/
2016-10-23
Captain Black Beard and singer Sakaria Björklund have mutually decided to part ways. Saki has recently become a father and obviously needs to make that his number one priority. With Saki's blessing the band will continue and try to find a replacement.
If you or anyone you know is up for the task, please send an e-mail to webmaster@captainblackbeard.net
We do have a cool tour date coming up with Sator, who will perform their hit album "Headquake" on November 12th at Pustervik in Gothenburg. On this show we've enlisted a great substitute singer! From the band Reach (and known from the TV show "Idol"); Ludvig Turner \m/
2016-03-26
Make sure you pick up the latest issue of Fireworks Magazine and Sweden Rock Magazine for reviews of "It's A Mouthful" and interviews with Robert Majd. Also, check out these great photos from our gig at Hard Rock Hell AOR:
http://tearsoffirephotography.com/
2016-03-18
Today is the big day... Our album is officially out on CD!!! Go to your local record shop or order it online and support our brand of melodic kick-ass rock.
Here's some links you can use:
2016-03-09
We're playing tonight in Västerås as support act to Joe Lynn Turner. The gig is at Intiman. Don't miss out!!!
2016-03-02
Here it is! Our music video for "Divided Feelings" from the new album "It's A Mouthful" (now available on Spotify):
2016-02-15
Perris Records is proud to announce the signing of CAPTAIN BLACK BEARD from Stockholm Sweden. The CD release date worldwide is March 25th.
The band had this to say: "We are very proud to sign with Perris Records! The label is already the home of many great acts such as Helix and Laney's Legion. Perris knows our genre well so we will be a perfect match. The new album "It's A Mouthful" is a step forward in every way. From Chips Kiesbye producing to the songwriting reaching a higher level. We think we've made a great album and can't wait for people to enjoy it. We hope that everyone watches the video to "Divided Feelings". Once again we worked with 11 Frames and made a tribute to the 80's slasher flix and the zombie genre in general. It was a lot of fun to make and even more fun to watch."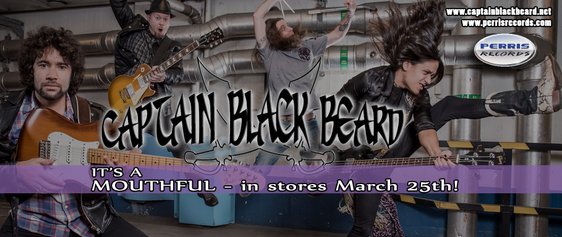 2016-02-01
A bunch of exciting news is on the way so check back soon. We've signed to a new label, release date, album cover and tour dates will be announced soon...
2015-11-03
The new album is being mastered so hopefully we'll have a release date for you soon. We will return to Hard Rock Hell AOR in Wales on March 10th. More gigs will be announced around that date. The video for our first single is ready and looks amazing. Rock on!!!
2015-09-22
The new album is being mixed, a video for the first single is done and looks great! We just got back from playing in Härnösand and Östersund. Had a great time!
This week we're playing in Helsinki and Sala as support act to House Of Lords. In a unfortunate turn of events, Saki has found himself unable to do the shows. We don't want to cancel with this short notice so with Saki's blessing we're bringing the great Gidon Tannenbaum as a substitue. Gidon is known as the flamboyant frontman of Mother Kasabian.
2015-06-04
We just finished up recording backing vocals for the album. There might be a guitar part here or there before we can start the mixing. In the mean time, Robert just released an album with his solo project Alpha Attakk. You can buy the vinyl (limited to 100 copies!) here in our shop or listen to it on Spotify/iTunes.
2015-05-21

Short notice! On Sunday, May 24th, we'll be the opening act for Robin Beck at Göta Källare in Stockholm. A great night for AOR-fans indeed. Get your tickets now; www.tickster.com
2015-04-28
We would like to thank everybody who rocked with us in Helsinki, Vaasa and Stockholm on our tour with the great Joe Lynn Turner!!!
We had a blast! Joe and his band were great! Check out STAHL Entertainment for news on their upcoming shows. Thanks to Thomas Ståhl for putting the tour together and having us as support act.
2015-04-02
Big news!!! We'll be opening for Joe Lynn Turner (ex Rainbow, Yngwie Malmsteen, Deep Purple) in Stockholm, Vaasa (FIN) and Helsinki (FIN):
April 23rd, On the Rocks - Helsinki, FIN
April 24th, Leipätehdas - Vaasa, FIN
April 26th, Göta Källare - Stockholm, SWE